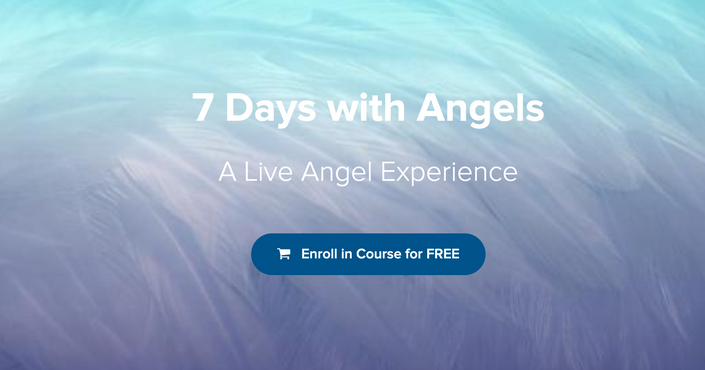 7 Days with Angels
A Live Angel Experience (Sept.26-Oct.3)

7 Days with Angels - a Live Angel Experience - Sept 26-Oct 2*, 2021.
with a bonus 8th day Sunday Oct.3rd!
Angels are only abstract if you don't work with them. They are only intangible if you don't invoke them, And they are only hard to believe in if you don't have an experience with them. We've designed 7 days with Angels in the spirit of a "Challenge" to support your desired personal transformation by giving you an experience working with Angels. Each day you will have an opportunity to develop a relationship with a different angel by working with them to bring some aspect of their blessing into your life.

This course is free to all and open to all. The only thing you need is an open heart, and to do the work
TIME: Each day you will receive live instruction with Q & A or a pre-recorded video to guide you through your practice. We anticipate the instruction and experience will take you around 15 minutes each morning.
PRE-REQUISITES: None
Get 7 days of instruction with our master trainers to help you experience the blessings of angels each day.
*PLEASE NOTE: This course will be available through Tuesday October 6, for anyone who started after September 26th. After October 6, lifetime access to this course will accessible through Living with Angels
Frequently Asked Questions
When does the course start and finish?
This is a 7 day course and its complete on the morning of the 8th day after you begin it.
How long do I have access to the 7 days with Angels videos and materials?
10 days - this gives anyone who joins late a little bit of time to catch up.
What if I am unhappy with the course?
We would never want you to be unhappy! If you are unsatisfied with your purchase, contact us in the first 30 days and we will give you a full refund.
Who can sign up for 7 days with Angels?
Anyone! - it's literally open to anyone who wants to have an experience.
How long is the program available?
7 Days with Angels is just that a 1 week experience that we offer as part of our "Angel Week" focus. Join up before it begins on 9/26/21 so that you don't miss out.
What happens if I start late, ie partway through the challenge?
Thats okay - you can join in any time. You won't hve the whole 7 day experiene like everyon else, but you will be in good shape and have a great experience.
Can my friend Join even if they've never taken a course with Naam Education?
Absolutely. All they have to do is register
What language will 7 days with angels be available in?
For this first program it will only be available in English. We look forward to hosting it in other languages in the future.
What happens if I miss the live instruction one day?
Don't worry, each day we will have a video available almost immediately in this course each day so that you can stay on pace with everyone else!
What if I don't believe in angels or my religion says they don't exist?
What you believe or don't believe is up to you, we just offer everyone the opportunity to have an experience, and let it go forward from there.