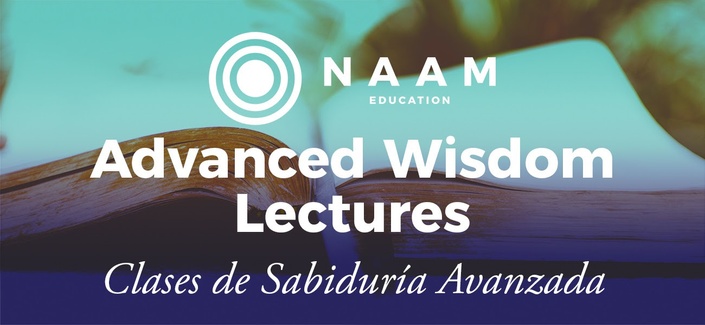 Advanced Wisdom Series Online / Clases de Sabiduría Avanzada
Online Workshops for Prosperity and Growth / Talleres en línea para la prosperidad y crecimiento personal!
(Mira abajo para la traducción al español)
Divine Spiritual Wisdom has many practical tools that allow you to harness and focus this force of change to the areas of your life where you need or want it.
The Advanced Wisdom Lectures is a series of five 2-hour workshops taught by Alyssa Gaustad, Courtney Miller, Deborah Braun and Chris Merrill.
Each video will have a unique area of focus.
---
Video #1 - "Healing and Success through Sound Vibration and Colors" with Courtney Miller
Everything in life requires energy-- when you're sick you need energy to heal, when you spend time with friends and family you need energy to talk and to listen, when you are starting a business you need energy. Your magnetism, your charisma, your brightness, it's all energy.
In this experiential lecture, you will learn why it's possible to be low-energy in a world of abundant energy, how to tap into an infinite source of energy, and how to direct that energy for healing or anything else you desire.
No prior study necessary. Topics will include:
Advanced practices of the Middle Pillar Ritual
Working with the Laws of Nature and its impact on the aura
The Law of Energy and its applications for decision-making
The Law of Circulation and its applications for health, brightness and wealth
---
Video #2 - "Sacred Ritual for Sleep and Dreams for Renewal and Spiritual Growth" with Alyssa Gaustad

Every sleep is a little death and each awakening is a new incarnation.
Within this lifetime here on earth, we have many lives, many opportunities to rewrite and upgrade our reality. Learn practical techniques from Universal Kabbalah to make the most of this gift of life through bringing your attention to your sleep and dreams. Topics include a sacred prayer formula for preparing for sleep, how to send yourself to the higher astral plane to receive wisdom and guidance, what to do when you have a bad dream, how to set yourself up for success the following day and massage points for good fortune upon waking.
---
Video #3 - "Creating Wealth through Daat" with Chris Merrill
Wealth, success and abundance do not happen by chance. Rather they are the result of understanding the practical and energetic qualities of wealth combined with a deep understanding of self. This 2 hour program is an in depth download of crucial principles that allow you to connect with the source to become a vehicle for wealth. Appropriate for experts and beginners alike. You will learn:
How to create a cosmic contract with Universe for material sustenance.
Tools to pay your debt off more quickly, (practical and spiritual)
The Daat System of Wealth Management & practical applications of the tree of life for wealth
How to heal Daat Elyon and Daat Tachton through money.
A timeless system to align yourself with the flow of blessings
inner meanings and spiritual implications of the hebrew alphabet
Timeless alchemical wisdom to upgrade any aspect of your life..
---
Video #4 - "Receive angelic help and let the universe work for you!" with Courtney Miller and Chris Merrill
Just as we live in the physical plane, there are beings that live in the spiritual realms, as real as each one of us. They don't have hands or feet; to impact the physical world, they work through people, as all Divine forces must. Each one of us can be a possibility for the world to feel the healing touch of an angel. All we need to do is learn how.
Join us in this special Universal Kabbalah Intensive to learn the art of opening yourself to the angelic forces, so that your thoughts, speech, feelings, writing and actions may bear the signature of the Angels of Light.
Learn how to communicate with these Luminous Beings of Light who are there for us 24/7 waiting to be called upon in order to help us. There is no greater opportunity for all of us than to establish a relationship and to communicate with Angels!
Appropriate for all levels, from experts in Archangels to Beginners.
---
Video #5 - "Rewrite your possibilities through the Power of the Word!" with Deborah Braun
Health, well-being, joy and peace of mind
Did you know that there are simple codes and precise points of "word" power embedded within ancient scripture that, used devotionally, can give you protection from negativity, grant you relief from suffering, and release you from difficult situations?
Just as a traveler in a foreign land needs a trusted guide or map, those versed in Divine Spiritual Wisdom can direct us to unknown, yet sacred and practical sections of world scripture that contain Primal Wisdom that can grant us freedom from specific life challenges.
This unique workshop is an invitation to work with the universal healing power of scripture and prayer so as to positively transform your consciousness and reality for healing, wellbeing and an inner state of peace that comes through working with the power of the word.
---
The lectures are as a package or individually and each video comes with a 6 month license to view and revisit as many times as you like!
The enrollment pricing is:
Package of 5 videos: New Students: $650 (Save $100) Existing Naam Teachers and Harmonyum Practitioners: $600 (Save $150) (use coupon code CERT or click here).
Como hemos aprendido con el Dr. Levry este es un periodo en la historia en el que es posible una mejora rápida.
La Sabiduría Divina Espiritual tiene muchas herramientas prácticas que te permiten aprovechar y enfocar la fuerza positiva del cambio en las áreas de tu vida donde más lo necesitas o lo deseas.
La clases de Sabiduría Avanzada es una serie de 5 talleres de 2 horas enseñadas por Alyssa Gaustad, Courtney Miller, Deborah Braun y Chris Merrill.
Cada video tendrá un área de enfoque único.
---
Video #1 – "¡Sanación y Éxito a través de la Vibración del Sonido y los Colores!" con Courtney Miller
Todo en la vida requiere energía - cuando estás enfermo necesitas energía para sanar, cuando pasas tiempo con amigos y familiares necesitas energía para hablar y escuchar, cuando estás empezando un negocio necesitas energía. Tu magnetismo, tu carisma, tu brillo...todo es energía!
En esta conferencia empírica, aprenderás por qué es posible tener poca energía en un mundo de energía abundante, cómo aprovechar una fuente infinita de energía y cómo dirigir esa energía para la curación o para cualquier otra cosa que desees.
Para tomar este taller no es necesario tener estudios previos.

Los temas incluirán:
Prácticas avanzadas del Ritual del Pilar Medio

Trabajando con las Leyes de la Naturaleza y su impacto en el aura

La Ley de Energía y sus aplicaciones para la toma de decisiones

La Ley de Circulación y sus aplicaciones para la salud, el brillo y la riqueza
---
Video #2 – "¡Ritual sagrado para dormir y soñar, con la finalidad de la renovación y crecimiento espiritual!" con Alyssa Gaustad
Cada sueño es una pequeña muerte y cada despertar es una nueva encarnación.
Dentro de esta vida aquí en la tierra tenemos muchas vidas, muchas oportunidades para reescribir y mejorar nuestra realidad. Aprende las técnicas prácticas de la Cábala Universal para aprovechar al máximo este regalo de vida al llevar tu atención a tu descanso y tus sueños. Los temas incluyen una fórmula sagrada de oración para prepararse para el sueño, cómo enviarte al plano astral superior para recibir sabiduría y guía, qué hacer cuando tienes una pesadilla, cómo prepararte para el éxito al día siguiente y los puntos de masaje para la buena fortuna que debes aplicar al despertar.

---
Video #3 - "¡Creando abundancia a través de Daath!" con Chris Merrill
La riqueza, el éxito y la abundancia no ocurren por casualidad. Más bien son el resultado de la comprensión de las cualidades prácticas y energéticas de la prosperidad, combinada con una profunda comprensión de ti mismo. Este programa de 2 horas es una transferencia directa en profundidad de los principios cruciales que te permiten conectarte con la Fuente, para convertirte en un vehículo para la abundancia. Este curso es apropiado tanto para expertos como para principiantes. En el aprenderás:
Cómo crear un contrato cósmico con el Universo para el sustento material

Herramientas para pagar tus deudas prácticas y espirituales) más rápidamente

El Sistema Daat de Gestión de Patrimonios y las aplicaciones prácticas del árbol de la vida por la abundancia

Cómo curar a Daat Elyon y Daat Tachton a través del dinero

Un sistema atemporal para alinearse con el flujo de bendiciones

Los significados internos y las implicaciones espirituales del alfabeto hebreo

Sabiduría alquímica atemporal para mejorar cualquier aspecto de tu vida
---
Video # 4 - "¡Recibe ayuda angelical y deja que el universo trabaje para ti!" con Courtney Miller y Chris Merrill
Así como nosotros vivimos en el plano físico, hay seres que viven en los reinos espirituales, tan reales como cada uno de nosotros. No tienen manos ni pies: para incidir en el mundo físico trabajan a través de las personas, como deben hacerlo todas las fuerzas divinas. Cada uno de nosotros puede ser una posibilidad para que el mundo sienta el toque sanador de un ángel. Todo lo que tenemos que hacer es aprender cómo.

Únete a nosotros en este curso Intensivo Universal de Kabbalah para aprender el arte de abrirte a las fuerzas angélicas, para que tus pensamientos, tus palabras, tus sentimientos, tu escritura y tus acciones puedan llevar la firma de los Ángeles de la Luz.
Aprende a comunicarte con estos Seres Luminosos de Luz que están ahí para nosotros 24 horas al día, 7 días a la semana esperando ser llamados para que nos ayuden. !No hay mejor oportunidad para todos nosotros que establecer una relación y comunicarnos con los ángeles!
Apropiado para todos los niveles, desde expertos en Arcángeles hasta principiantes.
---
Video # 5 - "¡Reescriba sus posibilidades a través del Poder de la Palabra!" con Deborah Braun
Salud, bienestar, gozo y paz mental.
¿Sabías que hay códigos simples y puntos precisos de "palabras poderosas" incorporados en las escrituras antiguas que, usados devotamente, pueden protegerte de la negatividad, darte alivio del sufrimiento y liberarte de situaciones difíciles?
Así como un viajero en un país extranjero necesita un mapa o un guía de confianza, aquellos versados en la Sabiduría Espiritual Divina pueden dirigirnos a secciones desconocidas, pero sagradas y prácticas, de las Escrituras del mundo que contienen la Sabiduría Primordial que puede concedernos la liberación de los retos específicos en nuestra vida.
Este taller singular es una invitación a trabajar con el poder curativo universal de las Escrituras y de la oración para transformar positivamente tu conciencia y realidad para la sanación, el bienestar y un estado interior de paz que viene a través del trabajo con el Poder de la Palabra.

---
Las clases se pueden obtener como paquete o individuales, cada video viene con una licencia de 6 meses (desde la fecha que fue subida a la web) para tener acceso al video las veces que sea necesario.
El precio de inscripción es:
Paquete de 5 videos: Nuevos estudiantes: $600 (ahorra $150) Profesores de Naam existentes y practicantes de Harmonyum: $600 (ahorra $150) (usar código de cupón CERT or clic aquí).