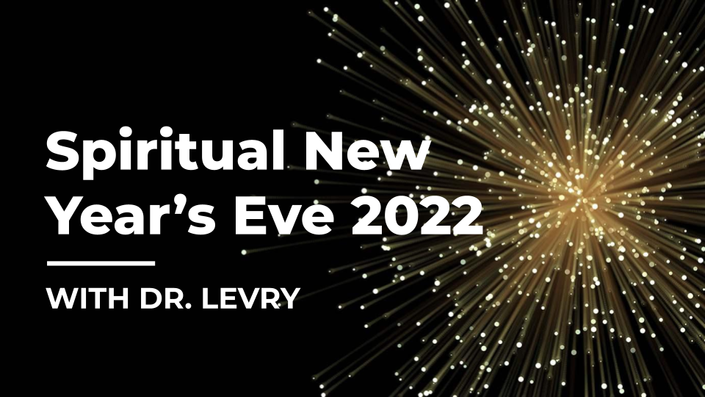 2022 Spiritual New Year's Eve with Dr.Levry
LIVESTREAM December 31st at 11pm PST (Replay for 1 week)
Enroll Now
What makes the NAAM Spiritual New Year celebration a great way to start 2022?
Consciousness! New Year's Eve is a golden opportunity to move from 2021 to 2022 with the light of consciousness. Our future, individually and collectively, depends on us to raise our consciousness at scale.
Every day is a page in the book of our life, and every year is a chapter in that book. Every year is determined by the way in which we begin our first day. Logically, the way we begin the New Year will determine exactly the type of year we will have. Because of the many changes happening in the global landscape, it is extremely important to start this year consciously and plant the seeds of Love, Faith and Hope on the eve of 2022, so that we may gracefully move through the coming months with the blessings and protection of Heaven.
We hope you join us at this auspicious time to bless your entire year and create the platform for expansion, healing and spiritual growth!
JOIN THE 2022 LIVESTREAM
Friday, Dec 31 - Saturday, Jan 1 at 11pm PST / 1am CST / 2am EST / 4am BRT / 8am Europe
(zoom opens at 10:45pm PST / 12:45am CST / 1:45am EST / 7:45am Europe)
Replay for 1 week
*Would you prefer to view the New Year's Eve celebration with Dr. Levry so that the gong is played at midnight in Your time zone? In this course curriculum you will find a recording of last year's ritual, with instructions for what time to start the recording for the gong to ring in this New Year. We have created this option upon request to give more flexibility. Please note that this option is a self-run replay. The recordings from last year are in English and Spanish.
Register Now!

In your course curriculum you will also find link for the online entry to all night Naamathon at 1am-6am PST, following the NYE Celebration.
Your Instructor