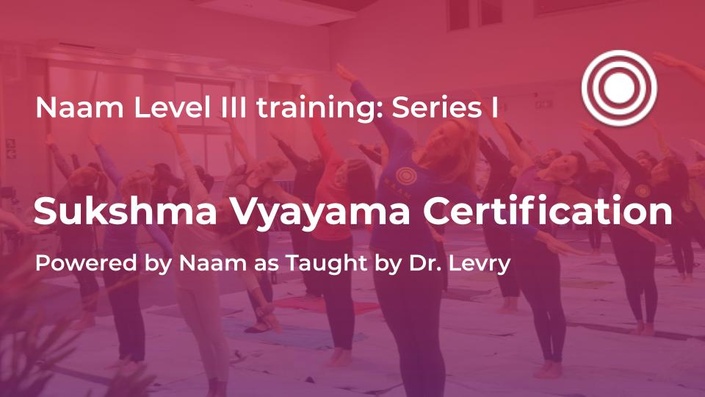 Sukshma Vyayama Certification ENGLISH
Powered by Naam as Taught by Dr. Levry - Naam Level III training: Series I
Enroll in Course
For the first time in the United States Naam LA is hosting a training in Sukshma Vyayama.
This health practice has been kept secret for centuries and is now being introduced to the Western World. This series of exercises is used by advanced yogis when coming out of Samadhi (a deep state meditation where the practitioner may be still for hours, days or months at a time) to bring life and vitality back in the body. It is known as the yoga of immortality as it works on the subtle body know as Sukshma Sharira which gives life and vitality to the physical body. This practice is designed to rid the body of disease, re-establish the flow of prana in the body, and awaken dormant powers in you.It looks and feels different from other forms of yoga and the energy released is felt within the first 5 minutes of practice.This is a wellness and health practice that complements any other forms of yoga, athletics, performance and fitness modalities you may do and causes you to catapult to a new level of excellence. With a consistent practice of Sukshma Vyayama Powered by Naam you feel renewed, and you gain an inner strength and power rarely accessed through any other means.
In this training you will learn and practice Series I, both the long form and a short form, which works on the body from head to toe including Naam meditation.
Benefits include:
Improved brain function (concentration, focus, memory)
Balanced endocrine system (hormonal balance)
Revitalized muscular and skeletal system (endurance, resilience, posture, muscle tone)
Reduced neck and shoulder tension
Increased metabolism to support ideal body weight
Enhanced detoxification to rid of environmental and internal toxins
Sustained energy flow through the day
Harmonized digestion and elimination
Heightened proprioception and balance
Improved eyesight
Increased joy
Balanced emotions through the power of sound vibration
NEW Course Dates/times for certification:
Part 1: June 25 to July 26, 2020 LIVE Online
Part 2: Final test out weekend live at Naam LA in October 2020 (TBD)
For Part 1: Live Online part, from June 25 to July 26 2020 (no classes July 4 + July 5 plus additional practice days at the end of July)
Monday: 7.00am - 9.00am PST —> Morning Practice (no late entry) *
Tuesday: 7.00am - 9.00am PST —> Morning Practice (no late entry) *
Wednesday: 7.00am - 9 .00am PST —> Morning Practice (no late entry) *
Thursday: 7.00am - 11.00am PST —> 4h Teaching material & Practicums with 30' break
Friday: 7.00am - 11.00am PST —> 4h Teaching material & Practicums with 30' break
Saturday: 7.00am - 10.30am PST —> 3.5h with no break
Sunday: 7.00am - 11.00am PST —> 4h Teaching material & Practicums with 30' break
Location: Online via Zoom.

* Open to general public too

Pre-requisites for the Certification Course:

To be eligible to attend this training
1) You need to attend 20 days of the Sukshma Vyayama Online Intensives with a certified Teacher Trainer (submit a written application to [email protected] if that is not your case)
2) You need to submit your teacher certificate in either yoga, fitness, Pilates, dance or similar.
Certification Requisites:

1. Full attendance to the training
2. Full payment
3. Satisfactory completion of all practice, practicums and training assessments and homework.
Note: In the event you do not pass your practicum, you will be required to schedule additional coaching and practicum time to retake your test within 3 months. This will incur additional costs for these sessions.
4. Teach a minimum of 15 practicum classes after you have passed your online training.
5. Continue to attend Sukshma Vyayama Powered by Naam as taught by Dr. Levry classes with Certified Trainers. Minimum of 15 classes.
6. Attend the live test out weekend and pass your final practicum.
Pre-requisites for the Self-Learning (NON-Certification):
No pre-requisites required
Course Curriculum
Sukshma Vyayama Morning Practice July 2020
Available in days
days after you enroll
Frequently Asked Questions
When does the course start and finish?
The FIRST part of the training starts on May 28, 2020. The course ends on June 28th, 2020. The SECOND part of the training (Final Certification) will be hosted LIVE in Naam LA in October 2020.
Is Dr. Levry teaching in this SV Training?
Dr. Levry IS scheduled to teach in this training.
Who is going to be teaching this Training?
Alyssa Gaustad and Renata Spironello are the Sukshma Vyayama Training Leaders along with other Senior Trainers, assistant trainers and guest speakers.
If I am registered for the Self-Learning course, will I have access to the pre-training videos?
No. The pre-training videos are only for participant who are registered to certify in the SV training.
For those who choose the SELF-LEARNING PATH: $200 will be refunded from the last payment.