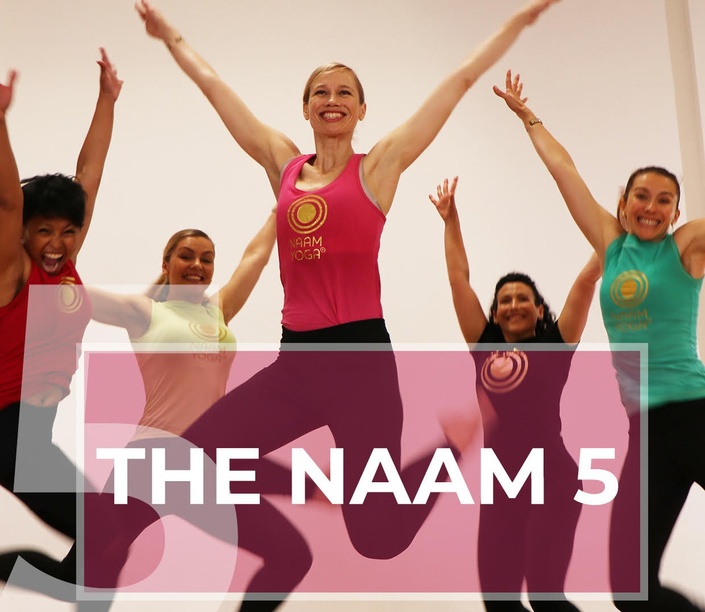 La certificación de The Naam 5 en Argentina
es un curso diseñado para mejorar tu vida y las vidas de aquellos con quienes compartes esta práctica!
¿Ha estado buscando una práctica que te ahorre tiempo y que aborde y prevenga los problemas de salud y las enfermedades de la era moderna, como las enfermedades de degenerativas, las cardiovasculares, los derrames cerebrales, los traumas cerebrales, los trastornos del estado de ánimo y los trastornos mentales, para que tanto tú como tus alumnos puedan disfrutar de una salud radiante y de la mayor alegría posible?
¿Has estado practicando la Serie de Sanación Shakti Naam para la Vitalidad, la Juventud y la Belleza también llamada The Naam 5 por tu cuenta y has experimentado el impacto que esta simple práctica de 18-30 minutos puede tener?

¿Desea saber más sobre esta práctica sagrada?

¿Te gustaría estar certificado para enseñar los ejercicios del Naam 5?
Si su respuesta es sí a cualquiera de estas preguntas, entonces este programa es para ti!
La formación presencial del programa de Certificación de The Naam 5 tendrá lugar en Buenos Aires, y estará dividida en 2 partes presenciales:
. Parte 1 -Pre-certificación: 1, 2 y 3 de noviembre del 2019
Viernes 1 de noviembre: de 18.30 a 21.30
Sábado 2 de noviembre: de 9.30 a 13.30 - de 16.00 a 18.30
Domingo 3 de noviembre: de 9.30 a 13:00
. Parte 2 - Certificación final: 7 de marzo del 2020
Sábado 7 de marzo: de 9.30 a 13.30 - de 16.00 a 18.30
Durante la formación del curso de "The Naam 5" los estudiantes podrán experimentar:
12 horas de instrucción en persona por parte del equipo docente de TN5 de Naam Education


Coaching personal sobre alineación, ritmo, ejecución perfecta de los ejercicios, orientación de los alumnos y musicalidad.

Todos los elementos necesarios para construir una clase en diferentes entornos.

Descripciones completas de los extensos beneficios de estos sencillos y poderosos ejercicios y la maestría de cómo compartirlos con los estudiantes.

Formadores Internacionales de TN5: Giu Bergamo, Claudio Vazzola.
Precio de la formación: $24,075 pesos
Esta inversión incluye:

Vídeos en línea de TN5

Manual de TN5 (Rootlight pdf)

Módulo de formación y certificación TN5

Revisión y apoyo de coaching

Certificación como maestro de TN5
Pre-requisitos: Los estudiantes deben ver la Serie de Sanación Naam para la Vitalidad, la Juventud y la Belleza también llamada " The Naam 5 " antes del comienzo del curso.

Al inscribirse, usted está de acuerdo con nuestra Política de Cancelación/Reembolso. Para ver nuestra política de Cancelación/Reembolso, haz click aquí..
Frequently Asked Questions
What is "The Naam 5"?
"The Naam 5" is a dynamic, full body workout that leaves you feeling revitalized and ready to complete even the most daunting tasks. While practicing you will feel vitality, youth and beauty flowing freely though your whole body, balancing your mind and awakening your soul to your highest potential. This series is also a panacea for those experiencing health challenges and illnesses of the modern age, as the exercises can address wasting diseases, heart disease, stroke, brain chemistry, mood and mental disorders transforming a dark or dim prognosis to one of radiant health and joy. The Naam 5 is for everyone: all ages, all levels of fitness, and all health conditions can benefit from these simple, transformational exercises.
Can I be certified even if I am not a Naam Yoga Level I graduate?
YES, everyone is eligible for certification in this program regardless of your prior Naam experience! Please view the certification FAQ for more details on certification requirements.
What is the format of the course?
The first part of the program is an in-person event of 12 hours. After this first portion, students will receive temporary certificate that will allow them to practice and teach, getting ready for the certification day. On certification day, participants will demonstrate their skills and proficiency on teaching a Naam 5 class. After successful completion, participants will receive the final certificate, with the official accreditation as a Certified Naam 5 teacher.
What do I need to bring for this program?
Just bring an open heart and mind, a notebook and a bottle of water - arm swings build up a great thirst!
What are the requirements to get certified to teach The Naam 5?
All students will receive a provisional 3-month certification. In order to receive a permanent certification as a teacher of "The Naam 5 exercises" participants need to: 1. Attend the training days from September 6-8, 2019 2. Practice The Naam 5 exercises for 30 consecutive days before certification on November 2, 2019 3. Teach 12 The Naam 5 classes before certification on November 2, 2019 4. Successfully demonstrate their teaching skills on certification day
Who should I contact with questions before, during and after the training?
For all questions related to the course, you can connect with any member of the Naam Yoga Teaching Team, call (323) 638-9349 or email
[email protected]
Is Dr. Levry teaching this class?
NO. This class will be led by the Senior teachers of the Naam Yoga Training Team. Dr. Levry will not participate.
What is the refund policy for this course?
As with all Naam Yoga Therapies programs there are no refunds available. Please review our privacy policy for full details of credit options for students.